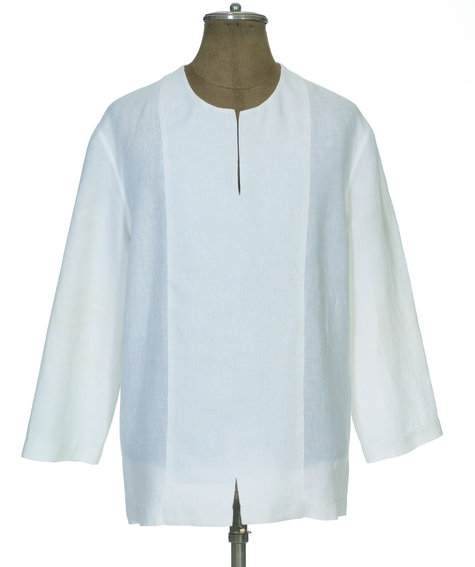 El verano pasado hice una tontería. Coser algo para mi marido ( aparte de sus trajes de neopreno)
Con el Burda de Junio en la mano, y ya de vacaciones, veo esto:
Last summer I did something a bit dumb. Sewing for my husband (apart from his diving wetsuits)
With June´s Burda in hand, I saw this picture: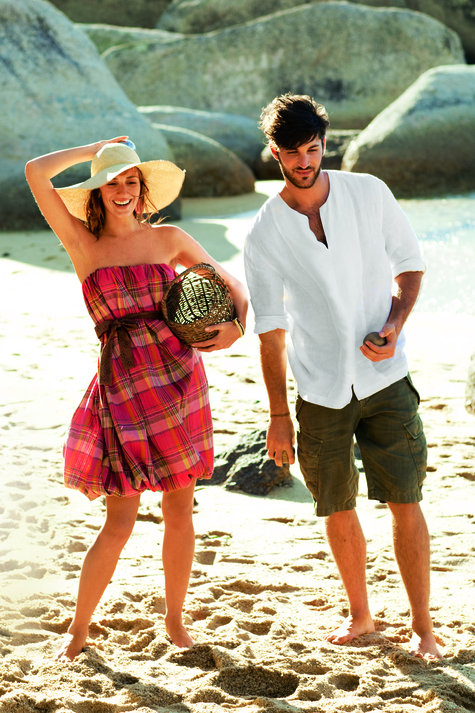 Happy couple. Parejita feliz
¿Cuantos patrones trae el Burda para chicos? ¿Uno o ninguno? Pues como mi marido es así morenito y con los dientes muy blancos y perfectos me dije a mi misma: Pa su cumple, ¡ea! Que le va a quedar divino
How many men´s patterns are there in a Burda each month? One maybe...none? So as my husband has a deep tan and very white and perfect teeth I said to myself: Let´s sew this for his birthday. He´ll be grand in this.
Me encanta trabajar con lino. Se corta y se cose maravillosamente, no da problemas de nada y casi siempre sienta bien.
El patrón es muy fácil y la construcción tambien. Es más hay una versión femenina que creo que me haré este año.
I love working with linen. No problems with cutting, marking or sewing, and it looks good.
The pattern is easy and so is the construction. There is a femenine version of it, and I think I´ll make it for next summer.
Hay que tener en cuenta que para mi marido la moda no importa. Si no tiene agujeros, es ponible. Y su fondo de armario consiste en un monton de camisetas y pantalones cortos en verano.
Así que cuando se vió con esta camisa puesta, me dió las gracias y me dijo: mejor que no me lo ponga, que con la cara que yo tengo y esta camisa me van a pedir los papeles cada dos por tres. Y la verdad es que tenía cierto aire de Principe Alí.
Pero yo no lo iba a dejar aparcado en el armario. Con los vaqueros, perfecto!
My husband doesn´t care about fashion. If it isn´t broken, he can wear it. His summer wardrobe is a lot of t-shirts and shorts. So he didn´t feel very confortable wearing this( He said he looked like Prince Ali) What´s a girl to do? Roll up the sleeves and wear it with jeans!