Mi intención era hacer un top ponible para llevar con mis pantalones tribales, que ocultara un poco la zona donde se ven mal casados los circulos.
My intention was making a top easy to wear with my tribal pants, one that hide the unmatched circles in some difficult areas.
Me decidí por este por que en la foto no se veía mal, era sencillo...
I went for this one as it didn´t look bad, it was easy...
Además de eso, me dió por explorar las posibilidades de las puntadas decorativas que tiene mi máquina de coser.
Also I wanted to explore the decorative stitches in my sewing machine.
¡Y me ha quedado como un saco de patatas!
And the result is a potato sack!
La tela es lo que me sobró del pantalón capri Black is Black, osea un satén de algodón.
I used the left over fabric from my Black is Black capris. Cotton Satin
La puntada decorativa la he hecho con hilo de seda.
The decorative stitch was made with silk thread
La vista de atrás peor que la de delante.
The back is worst than the front
Y de lado tampoco mejora
And it doesn´t get any better in profile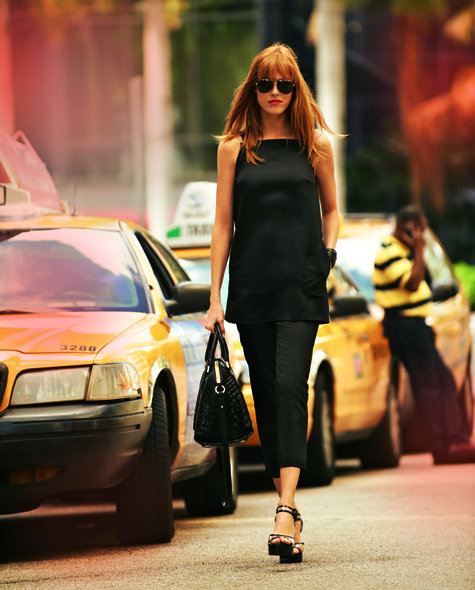 ¿Y a esta por que le queda tan bien?
Why o why does it look so good on her?
No todo es malo: siguiendo las instrucciones de Lupecienta hice el
acabado hong-kong
Not a complete waste of time though: Using Lupecienta´s instructions I made some
hong-kong finishes
Otra cosa buena es que ¡por primera vez en mi vida he hecho una cremallera invisible de verdad!
Another good thing is that for the first time in my life I was able to sew a really invisible zipper, ¡Yippy!